Here we'll look at the most reliable vans of 2012, whilst before, we looked at the most reliable manufacturers. The results aren't surprising, and we feel that it is a slight shame that they have been dominated by only three manufacturers. We can reveal that in the top ten however, Renault, Vauxhall and Citroen all made it.
5. VW Caddy
At number five, the VW Caddy is a worthy vehicle. It is sturdy, slightly dull, however the interior is hard wearing. The control-layout is sensible, seating is comfortable and both passenger and driver have plenty of space. It comes with either the 2.0 litre TDI 108bhp or the 2.0 litre 138 bhp engine. The suspension is from a Golf so its pretty nimble too and it has four wheel drive too.
4. VW Transporter
VW takes fourth place too with the Transporter. It has a familiar layout inside and the dash has been upgraded with better materials. Steering wheel and seat are adjustable so that you can get the perfect setup. It comes with either a 84 and 102bhp 2.0 litre TDi engine which is maybe not enough for some people. That being the case, there is always the option of a twin turbo 140 or 180bhp engine instead. The suspension flattens roads and makes them far more comfortable, it also has four wheel drive which comes in handy.
3. Mercedes-Benz Sprinter

The Sprinter is very good value for money and has a host of options available. You get a spaceous cab with infinite seat and steering wheel adjustability. You can choose between a three man or six man cab (with four doors) which is a great offering. The mirrors and windows are electric and you can get parking sensors too, which may be handy and save on your van insurance. There are various engines, ranging from a 2.2 litre TDi to a 3.0 litre v6 with 184bhp. All models are fitted as standard with a stability control system making them very safe to drive.
2. Ford Transit Connect

The runner up is Britain's favourite (or at least it was, before the Southhampton plant was closed down). Excellent value for money, with a comfortable cabin, six way seat adjustment, chargers, heating, A/C, and so on. The engines aren't enormously potent coming in at 75 or 90bhp, but they are very reliable. You can get a petrol 1.8 litre variant producing 115bhp though. Handling is good especially around bends.
1. Ford Transit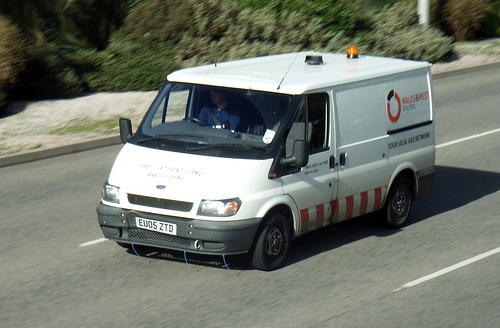 This is the larger version of the aforementioned Transit Connect and it is said that around 25% of all British vans are Transits. It's upgraded in many respects and has far more options available. It has a payload from 2.6 to 4.3 tonnes, and is as easy to drive as a car. The interior is improved, with a better quality finish, good adjustability, storage facilities and as an option you can get a host of other goodies including electric windows, mirrors and so on. There are a myriad of engines, from 2.2 litre 85bhp TDIs through to 2.3 litre 145 bhp petrol engines. With the larger engine you get a six instead of five-speed gearbox.
Try our sister site Rightsure Insurance for Van Insurance without the aggregator